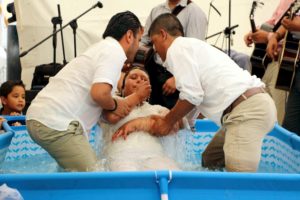 We have been asked to explain what a HFC Field Coordinator does exactly. To answer this question we can use Paco Damian, our Field Coordinator in Mexico, as an example. (All Coordinators will do the same to a greater or lesser degree in their own countries.) The following activities from Paco's ministry this year serves as a good illustration. They would be conducted locally with any Field Coordinator's home church as well as in other cities working with other church planters.
• Personal evangelism
• Evangelistic campaigns with the church
• Children's camps
• Baptisms
• Forming new groups of believers
(We have posted pictures of all these activities in Queretaro, Mexico on our photos page.)
Each year the fruit of this work can be seen in new disciples baptized, new Bible study groups started and new churches recognized. We currently have close to 100 churches in our networks across the Americas!