This post is also available in: Español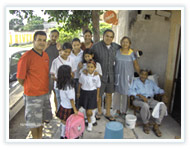 Hispanics for Christ is a ministry focused on planting Hispanic churches. We provide vision casting, strategic planning and coaching for church planters in the Americas. We currently have church planters in the United States, Mexico, Paraguay and Argentina, and are currently initiating new works in the U.S., Mexico, and El Salvador.
Jorge Osorio (1949-2008) – Founder

Jorge was the founder and Executive Director of Hispanics for Christ. He trained leaders and planted churches among Hispanics in South, Central and North America. Jorge passed away unexpectedly in Guatemala City in 2008 while exploring the opportunities for planting new churches there. His influence will continue on through the men and women he raised up in the churches he planted and through the Board of Directors of Hispanics for Christ who shared his passion for church planting.